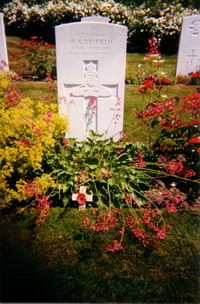 891751 58 Medium Regiment Royal Artillery

Hubert Bayfield lived in Sudbury in Priory Walk. He was the only son of Mr. and Mrs. H. A. Bayfield. His parents had a ladies wear shop in King Street, where Winch and Blatch Ladies fashions are today.

Hubert was in the Territorial Army before the war. The Drill Hall was based in Gainsborough Street, and members came from Haverhill every week to join the Sudbury men to train. At the outbreak of war the Territorials were called up immediately. The men from Haverhill were billeted in Friars Street before they and the Sudbury men embarked for France. They used the ground floor rooms of No.16-17 Gainsborough Street (opposite the Drill Hall) for cooking and washing. In the battalion Hubert was known as Peter.

58 Medium Regiment, Royal Artillery saw action in Belgium before having to retreat from Menin, near Ypres and make its way to Dunkirk. After being rescued at Dunkirk having left all their guns and equipment behind the battalion was based at Bovington, Dorset and then Christchurch near Bournemouth. In 1942 the battalion embarked for Algiers and fought with the Eighth Army in North Africa. From there it was sent to Italy, where it took part in the fierce fighting against the Germans at Cassino. Later the battalion went to France and Germany.

Hubert died on 13th August 1945, it is believed that he died from polio. He lies buried in Klagenfurt War Cemetery, Austria.