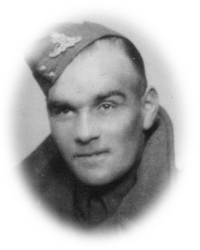 1781889 197 Battery, 61 Light A.A. Regiment, Royal Artillery

Frank Bear was born 16th June 1905. He was one of nine children of Alfred and Florence Bear (née Ward). Frank was married to Olive Maud East on Christmas Day 1928. They had 4 children, 3 girls and 1 boy and lived at 8 New Street, Sudbury. Before the war Frank was employed as a van driver for Mr. Wash of North Street, and was popular and very well known both in Sudbury and in the local villages. Frank was in the Territorial Army and was therefore one of the first to be called up.

Frank was captured in the desert of North Africa in June 1942. He was made to drive the German officers around the desert in a truck, which he also had to sleep in. Eventually he was shipped to Italy to a prisoner of war camp No. P.G. 060 3 200 where he developed a lung infection. This later developed into diphtheria and Frank was taken to the hospital in prisoner of war camp 202 in Florence where, he was said to be 'treated well' by the Italians.

Frank died in the hospital aged 37 on 9th December 1942 and lies buried in Florence War Cemetery, Italy.