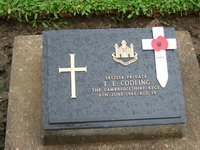 5832534 1st Battalion Cambridgeshire Regiment

Thomas Codling, known as Tom was born around 1914, one of twins. His parents lived in St. Catherine's Road, Long Melford. Tom was married and he, his wife and their young daughter lived at 61 East Street, Sudbury.

The Cambridgeshires were the last regiment to cease fighting defending Singapore. The Japanese attacked the island on 9th February 1942 and Singapore fell on 15th February. The Cambridgeshire Regiment suffered many casualties and was known by other regiments as the 'Fen Tigers'. Tom and his comrades were then taken prisoner by the Japanese.

Many of the prisoners were forced to work on the notorious 'Death Railway'. A railway they were forced to build through dense jungle from Thailand through to Burma living in appalling conditions, on half a cup of rice issued twice a day. There were scarce medical supplies and many died from disease or punishments metered out by their captors. They were paid 1 penny a day and they used this to buy fruit from traders who passed by the camps to add to their meagre diet. Approximately 13,000 prisoners of war and 100,000 civilians died during the construction of the railway.

A report in the Suffolk and Essex Free Press on 15th July 1943 states that his wife had received a postcard and that 'he is safe and well in Japanese hands. He has been missing since the fall of Singapore.' By the time the postcard reached her Tom had already died on 6th June 1943. He was aged 29. Tom lies buried in Kanchanaburi War Cemetery, Thailand.

A Cross of Remembrance was laid by his grave in April 2007 by Mr. Peter Smith during a visit to Thailand.