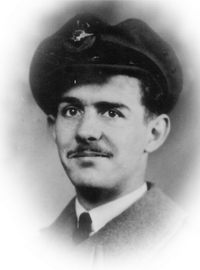 152754 161 Squadron Royal Air Force Volunteer Reserve

Arnold Dean, known as Keith was born on 22nd September 1923, the son of Ernest F. and Helen Agnes (nèe Arnold) Dean. His father was a Chartered Accountant. Keith attended Sudbury Grammar School from September 1934 – July 1940 and belonged to the Air Training Corps. His first employment on leaving school was as a hotel clerk. Keith had a younger sister Pamela, who called him 'Dixie' after the famous soccer player of the 1920's Dixie Dean. The family lived at one time at Priory Cottage and later at The Chantry, Stour Street, Sudbury.

When Keith was 18 he enlisted in the Royal Air Force and went to Canada on the Commonwealth Air Training Plan, a scheme for training aircrew overseas, qualifying as a bomb aimer. He went on to fly sorties over Europe, many of these included dropping agents over occupied territory. In 1944 he was based at Tempsford, which was an airfield 45 miles north of London. Halifax aircraft were based there; each carried a crew of seven. Because of the nature of operations, the airfield was camouflaged and looked like a farm on an abandoned airstrip. The code name for the base was 'Gibraltar Farm'

On the night of 28th/29th August his flight was commissioned by the Special Missions Agency (Bureau Bijzondere Opdrachten). This was a Dutch agency, which organized and supported the resistance in the Netherlands. On board were three agents to be dropped over occupied Holland. It was whilst over De Steenhove, near Engelen that the plane was shot down. What followed afterwards remains a mystery to this day.

Of those on board two died and two were captured by the Germans. One of those captured was the pilot, P Green, who after the war visited Keith's parents to tell them his story. Of the two who died it was believed that one of those was Keith, who was buried in the local cemetery. Keith's parents had only received notification that Keith was 'Missing, Presumed Killed' from the Air Ministry. His father would not believe that his son was dead and after the war wrote to the Mayor of Hertzogenbosch sending a photograph of Keith and contacted a wartime underground leader named Venrooij. Stories emerged that people including Venrooij had seen Keith or someone like him but couldn't recall where. In 1946 Keith's father advertised for information in an Amsterdam newspaper and a girl from Engelen contacted him to say that there was a grave in the village marked F/O Dean and it was tended by the villagers. Keith's parents travelled to Engelen but still did not believe this was their son's grave. In 1947 another contact came from a lady who had seen the advert and recognized Keith's photo as someone she had spoken to in Nieversluis, near Utrecht (30 miles from Engelen) 12 days after the crash. He was reported as wearing a blue civilian suit, spoke with a stammer and was anxious to get home to his parents.

In later years Keith's father managed to get the authorities to exhume the body from the grave officially recognized at Keith Dean's. Evidence, however did not agree with identification, the skeleton's height did not match Keith's neither did a dental record.

Keith's father believed that his son survived the crash and went into hiding to avoid capture. He was later arrested and taken to Germany where the trail then stopped. The Commonwealth War Graves Commission officially list Keith Dean as having died on 28th August 1944 less than a month before his 21st birthday and that he lies buried in Engelen General Cemetery, Netherlands.

Keith's name was not included with the others for the Second World War on the Sudbury War Memorial until 1989, when his sister applied to have it added.

This story was told in a book 'Even Birds Don't Fly At Night' by a Dutch writer Frans Lucas and Graham Dugdale, the radio operator onboard that night. A Dutch television company was still trying to solve the mystery in 2006.

R.J.Fayers, a former grammar school boy, who was in the same prisoner of war camp as the pilot, told the story in later years in a Sudbury Grammar School Old Boys publication.