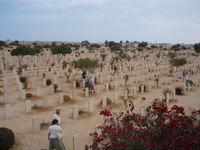 6020179 1/4th Battalion Essex Regiment

Paul Death was born around 1918, the fourth son of Charles and Eva Death. The family lived at 65 Friars Street, Sudbury. Paul enlisted at the age of 22, his four brothers also served; two in the army in the Middle East, one in the R.A.F. and one in the Royal Navy. His father Charles was a Special Constable and a Senior Warden with the A.R.P.

The 1/4th Battalion was a Territorial unit and gave distinguished service in North Africa as part of the Eighth Army during the Battle of El Alamein. In July 1942 the German Afrika Korps were only 70 miles from the British held port of Alexandria. The Eighth Army successfully repelled an attack from the Germans at Alam el Halfa on 30 August 1942 and during the next 6 weeks manage to stockpile a vast quantity of weapons and ammunition. In October 1942 the Eighth Army totalled 195,000 men, 1,351 tanks and 1,900 pieces of artillery. On 23rd October Operation Lightfoot was launched with the largest artillery bombardment since the First World War.

Paul was killed in action aged 24 on 25th October 1942. There is no known grave and he is remembered on the El Alamein Memorial, Egypt. Frederick Griggs, another Sudbury man died on the same day and lies buried at El Alamein Cemetery.

A Cross of Remembrance was laid by the Town Clerk, Mrs. S. Brotherwood during a visit to El Alamein Cemetery in November 2006.