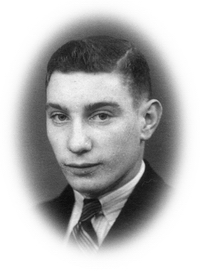 Assistant Commandant First Aid Party

Harry Everitt was born around 1922. He was the son of Sidney Charles and Kathleen Maggie Everitt. The family lived at 21 Station Road, Sudbury. Harry had his call up for military service deferred because his employment as an engineer's fitter at Bruntons was classed as essential war work. He was among many Sudbury men and women who volunteered for civil defence duties.

Harry was a First Aid Party leader when he drowned in the River Stour during a joint Civil Defence and military exercise on 6th September 1942. At the Coroner's Inquest a description of the tragedy was given. Harry and Stanley Felton had instructions to attend a 'casualty' the other side of Ballingdon Bridge. They did not know where the casualty was but it was behind the 'enemy'. They hailed a canoe paddled by two RAF personnel to be transported to the other side of the river. One man got out of the canoe and Harry and Stanley got in. In the middle of the river the canoe started to sink beneath them, Harry did not make it to the bank.

The verdict was 'death by drowning in the course of Civil Defence exercise' and the Coroner added these words 'Deceased was in the fullest sense of the term a war casualty of the Home Front and as such his name will be truly honoured' Harry, who was aged 20 had received his call up papers for military service just prior to the accident.

As the funeral cortege left his house for the service at All Saints Church the members of Brunton's fire service paid their tribute. Members of the First Aid Party were pallbearers and the Mayor, Mr. Wheeler and many members of the Borough Civil Defence Service attended the service. Harry lies buried in Sudbury Cemetery.