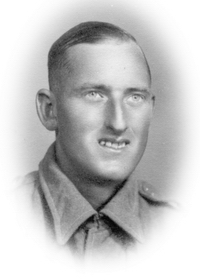 6031285 4th Battalion Queen's Own Royal West Kent Regiment

Leslie Everitt was born in 1920, the middle son of Albert Henry and Esther Elizabeth Everitt. His father was a grocer with a shop at No. 77 North Street and his mother had the sweet shop next door. Along with his two brothers Charles Albert and Ashley George the family lived 'over the shop' at No. 77.

Leslie was a Sunday School teacher at the Trinity Congregational Church. The font was given in his memory by his parents. He completed an apprenticeship as a bricklayer with Messrs. Wakelin and Rampling of Great Cornard before enlisting in December 1941.

Leslie was killed in action fighting in Burma with General Slim's 'Forgotten Army'. He died on 28th January 1944 aged 24 and lies buried in Taukkyan War Cemetery, Myanmar formerly Burma.

Leslie is also remembered on the Trinity Congregational Church Memorial now in the United Reformed Church, School Street, Sudbury.

A Cross of Remembrance was laid at Kanchanaburi Cemetery by Mr. Peter Smith in April 2007 for all the Sudbury men who died in the Far East.