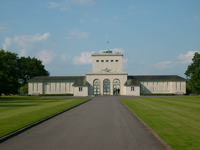 37542 102 Squadron Royal Air Force

John Flowerdew served with No.102 (Bomber) Squadron, which in 1943 was based at RAF Pocklington in Yorkshire. The squadron motto was 'Tenate et Perficite' – 'Attempt and Achieve'. It was equipped with Halifax Mk2 bombers and took part in operations over Europe including the Ruhr, Hamburg and Berlin.

John died on 5th May 1943, there is no known grave and he is remembered on the Air Forces Memorial, Runnymede, near Windsor.

A Cross of Remembrance was laid close to his name at the Air Forces Memorial, Runnymede on 11th August 2007.