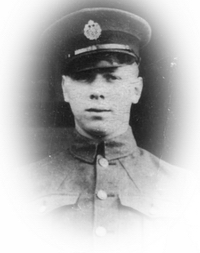 Charles Golding was born around 1909, the son of Alfred and Amelia Golding. He had 4 brothers and a sister and the family lived in Sudbury and later moved to Long Melford. Before the war Charles saw service with the Royal Air Force in India. After leaving he remained a reservist. Charles was married to Joyce Muriel and they lived in Plough Lane, Sudbury. He was employed at Arlington's in Cornard Road.

At the outbreak of war Charles being a reservist was called up straight away and was serving in France. Charles along with other RAF ground crew was evacuated from France in June 1940 and taken onboard SS Lancastria, which was a Cunard White Star Liner. The ship had between 5,000 and 6,000 men on board when she was attacked at 1545 hours on 17th June 1940 by German aircraft close to St. Nazaire in the Bay of Biscay. As the bombs hit the ship one went straight down the funnel. The explosion split the ship in two and by 1620 hours the ship had sunk with the loss of approximately 3,300 lives.

Charles's body was never found. He is recorded as having died aged 31 on 17th June 1940 and is remembered on the Air Forces Memorial, Runnymede, near Windsor.

A Cross of Remembrance was laid close to his name on the Air Forces Memorial, Runnymede on 11th August 2007.

Two other Sudbury men were also lost on board SS Lancastria, Ernest Smith and Don Theobald. To this day the official report of the sinking of SS Lancastria is bidden by the Official Secrets Act and not due to be released until 2040.