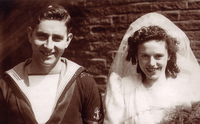 C/JX 159696 HMS Bullen, Royal Navy

Albert Heard was born around 1922, the son of Bert and Florence Heard. The family lived in Assington before moving to Sudbury where the family of 3 boys and 3 girls lived at 60 Ballingdon Street, Sudbury. His father was employed as 'a roadman'. Albert was known by his family nickname of 'Douggie' and he attended St. Joseph's Roman Catholic School in Sudbury.

He joined the Royal Navy as a boy sailor, training at HMS Ganges in Shotley, Suffolk. He married Dora in Liverpool on 24th April 1943.

Douggie served onboard HMS Cumberland, which saw action at the Battle of The River Plate in the South Atlantic in December 1939 involving the German pocket battleship 'Graf Spee'. Due to appendicitis he had to leave his ship for a shore based hospital. On his recovery he joined HMS Bullen, which was an American built lease-lend frigate. On 6th December 1944 the ship was hit amidships by a torpedo fired by the German submarine U775 at Cape Wrath, north west of Scotland. The ship broke in half and the stern sank 2 hours later with a loss of almost half the crew of 200.

Douggie was reported as killed on 6th December 1944, there is no known grave and he is remembered on the Chatham Naval Memorial, Chatham, Kent.

His first cousin Charles Heard is also remembered on the Sudbury War Memorial.