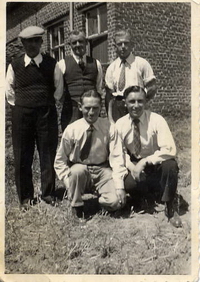 14509854 91 Field Company Royal Engineers

Charles Heard was born in Sudbury around 1924, the only son of James Henry (known as Harry) and Marie Louise Cornella Heard (née Foequensey). His mother was Belgian and came from Poperhinge near Yprés. His parents married in Belgium before returning to Sudbury. His father served with 3rd Battalion Suffolk Regiment during the First World War, and later was employed as a labourer. Charles had 2 sisters, Emma (Emmie) and Elizabeth (Betty) and the family of 5 lived at 25 Mill Lane, Sudbury. All the children attended St. Joseph's Roman Catholic School.

Charles served with the Royal Engineers whose motto is 'Ubique' – 'Everywhere'. The Royal Engineers Regiment covers an extensive range of skills from bomb disposal, clearing minefields to bridge building. These skills were put to much use during the fight to liberate Europe.

Charles was hit by flying shrapnel and died aged 20 on 2nd October 1944. He lies buried in Jonkerbos War Cemetery, Netherlands.

His first cousin Albert 'Douggie' Heard lost his life serving in the Royal Navy and is also remembered on the Sudbury War Memorial.