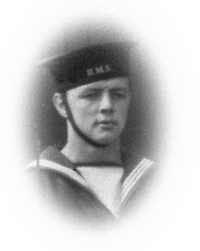 C/JX 245694 HMS Phoebe, Royal Navy

George Henderson was born around 1925 and it is believed came from a large family. He was a 'Barnardo's Boy' and was fostered by Mrs. Horsley of 49 Newmans Road, Sudbury.

George served onboard HMS Phoebe, a Dido class cruiser built by Fairfield shipbuilders on Clydebank, Glasgow and launched in 1939. In April 1941 the ship joined the Mediterranean fleet at Alexandria participating in the evacuation of Greece and Crete and escorting Malta convoys. HMS Phoebe was torpedoed in 1941 off Tobruk, after repairs in New York she returned to duty.

The ship was sent to South Africa and based at Cape Town patrolling in support of the landings at Madagascar, and then ordered to return to the Mediterranean. In October 1942 she was hit portside by a torpedo from a German submarine close to the small harbour entrance at Pointe Noire in French Equatorial Africa.

One survivor recalled: 'a lot of boy seaman died. Their mess deck was below the Marine's mess deck and took the full force of the explosion. The sail maker seeing to a boy for burial, was crying his eyes out'. Another Sudbury man Petty Officer Boast, who was on board at the time reported: 'It was only splendid team work on board that kept the ship afloat during the remaining 10 miles to port'. Many of the ships crew were lost, some being buried at sea others like George buried when they reached port.

George died aged 17 on 23rd October 1942 and lies buried along with 28 others in Point Noire European Cemetery, Congo.