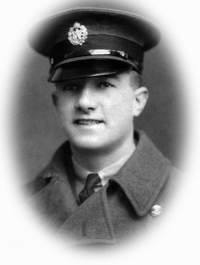 538981 204 Squadron Royal Air Force

William Lillie, known as Bill was born in Sudbury in January 1919, the second son of Charles Henry and Ethel May Lillie. The family lived at one time at The Railway Bell public house in Station Road, later moving to 28 Girling Street. His father was a painter and decorator. Bill had 3 brothers, 3 sisters and a stepbrother. He attended North Street School and was described as 'a quiet, thoughtful boy, particularly interested in mechanics'. Whilst at school Bill did a newspaper round for Mr. E. Fairhead of Friars Street and was a chorister at St. Gregory's Church.

On leaving school Mr. McMaster, of Bures, employed Bill as a carpenter. He joined the Royal Air Force at 17, earning his Corporal stripes before the outbreak of war. Bill's 2 brothers also served during the war, one in the Royal Air Force and one in the army. His sister remembers him as 'a tall, handsome marvellous brother'.

In 1940 Bill was a rear gunner on a Short Sunderland flying boat and was the first serviceman from Sudbury to be awarded a medal in the Second World War.
Reports of Bill's award of the Distinguished Flying Medal appeared in the Suffolk and Essex Free Press on 18th April 1940. 'The voice of the tail gunner was heard by millions of people on Monday night when an account of the Sunderland's battle with the Junkers was broadcast in the Home Service programme. Corporal Lillie's voice sounded quite matter-of-fact – it was just a straightforward story of a job of work in the course of a day's duty. He said he was sitting in the tail turret, very cold. The pilot had been speaking over the 'phones, and he sat there watching and looking around when the pilot reported two strange aircraft on the port side. He saw two approaching, very fast, on his tail, and when they swung round he got a bead on them and recognized them as the new Junkers.'

"They were 500 yards off and I was surprised when they opened fire. I let them get to 300 yards away and let fly and they turned away. The pilot reported four more approaching and two attacked in turn. The first got in a burst a distance away and turned. I thought it was no good wasting bullets and I let the second one come to within 100 yards. I gave him one damn good burst and it seemed to shake him up. I saw the Swastika and gave him another burst and I saw him fall into the sea." Corporal Lillie concluded that he saw another Junker come up and got a bead on him, but he turned away and the enemy machines made off much faster than they came.' (The pilot, Flight Lieutenant Frank Phillips was awarded the Distinguished Flying Cross).

The Mayor of Sudbury, Mr. Wheeler sent a letter to Bill's parents 'I should like, on behalf on myself and the town to congratulate you on your son's achievement.'

In 1940 Bill along with other rear gunners were promoted to the rank of Sergeant by RAF orders to attract young men to this hazardous occupation.

Prior to April 1940, 204 Squadron whose motto was ' I seek my prey in the sea' were based at Mountbatten, Plymouth. On 1st April 1940 they were transferred to Sullom Voe, Shetland Islands. The base was an old East India passenger liner SS Manela and they were transported by tender, the 'Perkins' pinnacle across the water to Garth Voe, where the aircraft were moored. The base regularly came under attack from German ME110 fighters. No. 204 Squadron's missions took them right up the Norwegian coast, often lasting anything up to 12 hours. In the rear gunner's position it was bitterly cold. Bill's aircraft was N9028/KG-F and the normal number of crew onboard would have been 7. In June 1940 Bill's aircraft was involved in shadowing the German Battle Cruiser 'Scharnhorst'.

On 21st July 1940 at 2315 hours the crew of N9028 left SS Manela on the tender, which took them across to the aircraft. After the usual checks they took off at 2359 hours to Trondheim. At that time of year it would not get really dark, which was good for vision but also for the enemy fighters on patrol. However there were 12 members of crew onboard for this mission. The true reason for their mission has never been disclosed. But Mr. Geoffrey Horne, who served at Sullom Voe at the same time at Bill Lillie, believes that it is highly probable that it had something to do with the Germans building U-boat (submarine) pens at Trondheim. One of those on board was a highranking officer who would not normally fly missions and there were also photographers onboard.

At 0515 hours the Luftwaffe's records show that a Sunderland shot down a German BF109e killing the pilot Oberleutnant Lorenz Weber. At the same time the records logged show that Oberstleutnant Karl-Heinz Weber, a German ace shot down a Sunderland over the 'Lines' fishing area. The plane crashed into the sea, there were no survivors.

At first Bill was listed as 'missing', then on 16th May 1941 in the Suffolk and Essex Free Press he was officially reported as 'presumed dead'. The official date given for Bill's death was on 21st July 1940 he was aged 21. There is no known grave and he is remembered on the Air Forces Memorial, Runnymede, near Windsor.

A Cross of Remembrance was laid close to Bill's name on behalf of his sister at the Air Forces Memorial, Runnymede on 11th August 2007.

In June 2005 a new road on a housing development, not far from where the Railway Bell once stood was named in Bill's honour – Corporal Lillie Close.

At the Imperial War Museum at Duxford, Cambridgeshire, there is a Sunderland aircraft on display and alongside it is Bill's story.