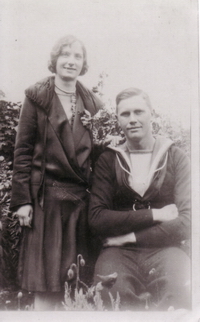 C/J 110244 HMS Chakdina, Royal Navy

Joseph Moore was born in Darsham, Suffolk in 1909; he was the middle son of Robert John and Bessie Moore. The family moved to Sudbury when he was a small boy and he attended North Street School. Joseph had 2 brothers and 3 sisters and the family lived at 1 Gardenside, Croft Road, Sudbury. His father was employed on the railway.

Joseph served in the Royal Navy for 7 years, after which in 1933 he joined the Suffolk Constabulary. Joseph married Dorothy Bird on 1st September 1934 at St. Andrew's Church, Great Cornard. They lived in the police house in Ixworth where he was stationed until the outbreak of war when he was recalled to the Royal Navy. Dorothy and their 2 children had to leave the police house and returned to Great Cornard to live with her parents George and Francis Bird in Church Road.

Joseph sailed on Christmas Day 1939, the last time his family would see him.
He served onboard HMS Chakdina, which before the war was a passenger/cargo ship built in 1914 in Leith by Ramage and Ferguson for the British India Steam Navigation Company Ltd. It was chartered by the Admiralty along with 3 sister ships and in 1941 was used to carry supplies to the beleaguered British troops in Tobruk, North Africa. The air cover provided by a wing of RAF Hurricanes was withdrawn in April 1941 and that same month 2 of the ships were lost. The remaining 'Chakdina' and 'Chantala' had to double their runs of supplies running the gauntlet of enemy air attacks.

On 5th December 1941 HMS Chakdina sailed from Tobruk, on board was the Generalleutnant Johann Theodor Ravenstein, the first German General and highest ranking officer to be captured in the war so far. He was captured on 29th November by New Zealand forces just outside Tobruk on his way to the Afrika Korps H.Q. HMS Chakdina was torpedoed and sunk just off Tobruk when the ship was attacked by German aircraft.

Joseph died on 5th December 1941 aged 32, he has no known grave and is remembered on the Chatham Naval Memorial, Chatham, Kent. (His age is given incorrectly on CWGC website).

A Cross of Remembrance was laid on behalf of his daughter near to his name on the Chatham Memorial in October 2006.

Joseph is remembered on the Great Cornard and Ixworth War Memorials and on a special plaque remembering Suffolk police officers who lost their lives in the Second World War. The plaque is situated in Bury St. Edmunds Police Station.

His younger brother Robert James, known as Jimmy lost his life serving with the Suffolk Regiment in the Far East, he died a prisoner of war and is remembered on the Sudbury War Memorial.