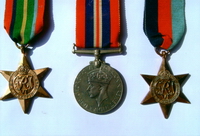 5822243 5th Battalion Bedfordshire and Hertfordshire Regiment

Sidney Mumford was born 11th April 1904 at 81 Melford Road, Sudbury. He was the son of William and Ellen (nèe Sparrow) Mumford. His father was employed as a cocoa mat weaver. Sidney was married to Evelyn (Eva) Lydia. The family were living in 1935 at 81 Queens Road, Sudbury, they later moved to 4 Orchard Place, Church Street. They had one surviving son. Sidney was a regular soldier between 1922 and 1930 serving in China and India. After leaving the army he was employed as a bricklayer by Messrs. Wakelin and Rampling of Great Cornard. When war broke out he was recalled to the colours, serving in France before sailing for Singapore in October 1941 onboard SS Reina Del Pacifico.

In March 1942 his wife received official notice that Sidney had been posted 'missing' on 15th February 1942. The Japanese had taken Sidney prisoner at the fall of Singapore. In July 1943 it was reported in the Suffolk and Essex Free Press that his wife had received a postcard saying that he was 'fit and well'.

After the invasion of many countries in the Far East Japan had a large number of prisoners and decided to transport them by ship to use as slave labour in the Japanese war effort. These ships were known as 'Hell Ships' and they were not marked by the Japanese to show that they were carrying prisoners of war and were therefore open to attack by allied forces, who saw them as legitimate targets.

Sidney and other prisoners of war, including another Sudbury man Ephraim Cole, were onboard one of these 'Hell Ships' – the 'Kachidoki Maru' heading for Japan when the American submarine USS Pampanito attacked it on 12th September 1944 North East of Hainan Island, off of China. The ship was sunk with the loss of 400 out of 900 British prisoners of war on board. Sidney's wife once again was told that he was 'missing' in March 1945, she later received official notification of 'missing presumed dead' in December 1945.

Sidney was lost at sea, aged 40. There is no known grave and he is remembered on the Singapore Memorial, Kranji War Cemetery, Singapore. Ephraim Cole also lost his life at sea.

A Cross of Remembrance was laid at Kanchanaburi Cemetery by Mr. Peter Smith in April 2007 for all the Sudbury men who died in the Far East.