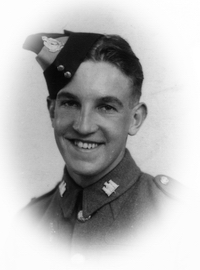 5828307 5th Battalion Suffolk Regiment
Attached 'B' Company

William Nunn, known as Billy was born in 1921. He was the eldest son of William Charles and Ella May Nunn. His father Billy senior was an antique dealer and was well known in the Sudbury area. Billy had 4 brothers and 3 sisters and the family lived at 3 Church Street, Sudbury where the family business was run.

When Billy left school he became an apprentice carpenter with Percy Brown, a local building firm, which is still operating. In his spare time he joined the Territorial Army in Sudbury. His father had also served with the Suffolk Regiment during the First World War and his sister recalls her father telling the tale of the mud in the trenches. The first time the tale was told the depth of the mud was up to his ankles, the next time the mud was knee deep and the next time waist high! When her brothers complained about only having corned beef and biscuits he reckoned they were well fed as he only had hard biscuits, 'so hard they nearly broke your teeth'.

Billy was called up in the early days of the war. He trained in Caistor, Norfolk and it was from here that he came home on embarkation leave before leaving for Singapore. His sister's last memory of her brother was when he kissed them goodbye and of her mother crying. Two of his brothers also served during the war, one of them with the Suffolk Regiment. A younger brother also served with the Suffolk Regiment during his National Service after the war.

When Singapore fell in February 1942, the family received a telegram reporting Billy as 'missing'. A report and photograph appeared in the Suffolk and Essex Free Press on 30th April 1942. It was later confirmed that he had been taken prisoner by the Japanese. The family received several postcards on which Billy indicated that he was well and not suffering any tropical illness. He was working and being paid.

On 7th/8th February 1945 the Americans carried out a bombing raid on the Island of Formosa and Billy was killed aged 24. (The original cross had 8th February 1945 inscribed, the present gravestone is dated 7th February). Billy lies buried in Sai Wan War Cemetery, Hong Kong, China.

After the war, Billy's personal effects were returned to his mother, some drawings that Billy had done of his Army mates and his forage cap with the Suffolk Regiment cap badge on it. His mother had the badge dipped in silver and made into a brooch, which she always wore with pride. When she passed away in 1982 the brooch was buried with her and Billy's name added to his mother and father's headstone.

A Cross of Remembrance was laid at Kanchanaburi Cemetery by Mr. Peter Smith in April 2007 for all the Sudbury men who died in the Far East.