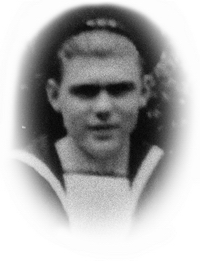 C/JX 352080 HMS Goodall, Royal Navy

Alexander Pearce, known as Alex was born in Barking on 8th August 1923. He was the youngest of 7 children of Edward and Elizabeth Jennie (nèe Reid) Pearce. His father came from Norfolk and his mother from Bethnal Green. The family lived at 15 Denham Way, Barking before moving to Park Lodge, Newton Road, Sudbury around 1935 when his father changed his job. He worked for 'Regos' who during the war made uniforms for the armed forces.

Before the war Alex was employed as a carpenter. He joined the Royal Navy and served as a gunner.

Alex was wounded in the legs whilst his ship was supporting the D-Day invasion on 6th June 1944. He was sent to Stockbridge Hospital, Winchester for treatment and then transferred to a hospital in Poole, Dorset. Whilst there, he was allowed out overnight to visit his brother in Salisbury.

Alex was invalided out but decided to re-enlist and joined HMS Goodall; a Captain Class frigate (K 479) built in Boston, U.S.A and launched 8th July 1943. On the 29th April 1945 HMS Goodall was escorting convoy RA66 7 miles from Murmansk, Northern Russia at the entrance to the Kola Inlet. A pack of German submarines had gathered to attack the homeward bound convoy, 3 of the U-boats were found and attacked by the escort frigates and corvettes. Two of the German submarines were sunk but the other U-968 hit HMS Goodall, destroying the bridge and shooting the bow off. The ship sank at 2200 hours. Only 44 of the crew of 156 survived. This was the last ship to be sunk in the European theatre of war in the Second World War.

Alex died aged 21 on 29th April 1945. His parents were informed of his death on 11th May 1945, 3 days after VE Day. There is no known grave and Alex is remembered on the Chatham Naval Memorial, Kent.