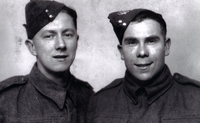 6019037 4th Battalion Suffolk Regiment

James Pilgrim, known as Jimmy was born in January 1918. The son of Mrs. Maud Pilgrim and the family lived at 34 Mill Lane, Sudbury. He was a good friend of Billy Hurst, who lost his life serving with the army in Italy; they worked together at Bakers Mill, Great Cornard.

The 4th and 5th Battalions Suffolk Regiment landed in Singapore on 29th January 1942 just as the Allied forces were withdrawn from the mainland and they were deployed to defend the north east coast of the island. The Japanese invaded the island on 9th February 1942, Singapore fell on 15th February 1942 and Jimmy was taken prisoner.

Many of the prisoners were forced to work on the notorious 'Death Railway'. A railway they were forced to build through dense jungle from Thailand through to Burma living in appalling conditions, on half a cup of rice issued twice a day. There were scarce medical supplies and many died from disease or punishments metered out by their captors. They were paid 1 penny a day and they used this to buy fruit from traders who passed by the camps to add to their meagre diet. Approximately 13,000 prisoners of war and 100,000 civilians died during the construction of the railway.

Jimmy was reported 'missing'. In July 1943 his mother received a postcard from him stating that he was 'quite well and safe' and asking her 'to inform his friends and relations'.

Jimmy died aged 25 on 1st September 1943 at Nicki Camp and lies buried in Thanbyuzayat War Cemetery, Myanmar.

A Cross of Remembrance was laid at Kanchanaburi Cemetery by Mr. Peter Smith in April 2007 for all the Sudbury men who died in the Far East.