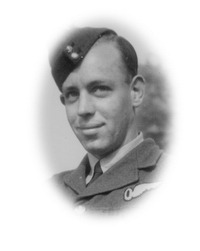 755991 84 Squadron, Royal Air Force Volunteer Reserve

Kenneth Ridgewell was born on 25th October 1920 in Sudbury. He was the son of Frederick Charles and Ada Lily Ridgewell, who had moved to Sudbury from Halstead after the First World War. His father was a foreman baker at the Sudbury branch of the Halstead Co-operative Society. Kenneth had a younger sister Audrey and the family lived at 17 Constable Road, Sudbury. He attended Sudbury Grammar School from September 1931 – June 1937. His first employment on leaving school was as a clerk for the Inland Revenue. He did very well in Civil Service exams and was posted to Ely, Cambridgeshire. Kenneth was a very keen cyclist and would cycle from Sudbury to Ely, lodge in Ely during the week and cycle back to Sudbury for the weekend.

Kenneth joined the Volunteer Air Force Reserve aged 18½ to learn to fly and was mobilized at the outbreak of war. A good school friend recalls going to the station with Kenneth's father to see him off, his last memory of him was as he waved from the train.

In September 1940 No. 84 Squadron was sent to Egypt following the outbreak of war in the Middle East however, it was one of the units sent to help the Greeks in November 1940. On 6th February 1941 the Suffolk and Essex Free Press reported Kenneth as 'missing'. The aircraft on which he was serving as a navigator had 'failed to return to its base after an operational flight in the Eastern theatre of war'. The plane had been shot down over Greece.

Kenneth died just 6 weeks after his 20th birthday on 7th December 1940. There is no known grave and he is remembered on the El Alamein Memorial, Egypt.

A Cross of Remembrance was laid by the Town Clerk, Mrs. Sue Brotherwood during a visit to El Alamein Cemetery in November 2006.