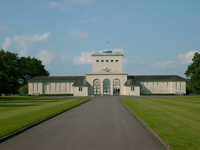 1184110 12 Squadron, Royal Air Force Volunteer Reserve

Findon Row (F D W Row on War Memorial) was born around 1915. He was the son of Herbert Newton Edward and Margaret Dora Row. The family lived at 4 York Road, Sudbury.

Findon served with No.12 (Bomber) Squadron, whose motto was 'Leads the Field'. In 1942 the squadron was based at RAF Binbrook in Lincolnshire. They were equipped with Vickers Wellington II bombers and flew missions over Europe including attacks on German ports, Berlin and the Ruhr. Benjamin Dove, another Sudbury man who is also remembered on the Sudbury War Memorial served with No.12 Squadron at the same time as Findon.

Findon died aged 27 on 10th April 1942. There is no known grave and he is remembered on the Air Forces Memorial, Runnymede, near Windsor.

A Cross of Remembrance was laid close to his name at the Air Forces Memorial, Runnymede on 11th August 2007.