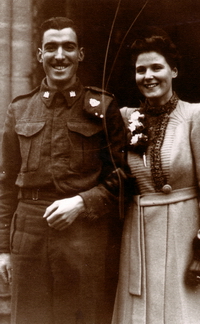 5828659 5th Battalion Suffolk Regiment
Attached 'HQ' Company

Robert Sargeant, known as Joe was born around 1916, the youngest son of Joseph and Ellen Sargeant. He had 2 brothers and 3 sisters and the family lived at 16 Curds Lane (now Weavers Lane), Sudbury. He attended North Street and Mill Lane Schools.

Joe was a Territorial soldier before the outbreak of war and was employed at Messrs. Melso Ltd, Bures Road, Great Cornard (now Guilford). His elder brother, Roland served in the Royal Air Force and his sister, Victoria was a nurse. Joe married Doris Eileen at St. Gregory's Church, Sudbury; they met when she was serving with the Auxiliary Territorial Service at the same base as he was stationed at.

In October 1941 the 5th Battalion sailed from Liverpool via Halifax, Nova Scotia, down along the South American coastline then across to Cape Town, arriving in Singapore on 29th January 1942. As they landed the Allied forces were being withdrawn from the mainland to defend the island. The Japanese attacked the island on 9th February 1942, Singapore fell on 15th February and Joe was taken prisoner.

Many of the prisoners were forced to work on the notorious 'Death Railway'. A railway they were forced to build through dense jungle from Thailand through to Burma living in appalling conditions, on half a cup of rice issued twice a day. There were no medical supplies and many died from disease or punishments metered out by their captors. They were paid 1 penny a day and they used this to buy fruit from traders who passed by the camps to add to their meagre diet.
Approximately 13,000 prisoners of war and 100,000 civilians died during the construction of the railway.

Joe died from beri-beri aged 27 on 30th August 1943 at Tambaya. He lies buried in Thanbyuzayat War Cemetery, Myanmar formerly Burma.

A Cross of Remembrance was laid at Kanchanaburi Cemetery by Mr. Peter Smith in April 2007 for all the Sudbury men who died in the Far East.