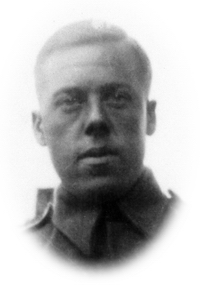 1883617 7 Field Squadron, Royal Engineers

Edward Wordley was born 7th June 1916 and was the youngest child of Henry Charles and Kate Wordley (née Green). He was born on Derby Day and was known in the family by his nickname of 'Derby'. He had 2 brothers, Henry and Robert and a sister Agnes and the family lived at 5 Cross Street, Sudbury.

His father was a butcher and before the war Edward was a plumber, apprenticed to Mr. Harry Spencer of East Street. He later worked for Mr. Jay before enlisting.

Edward was serving with the Royal Engineers when he was slightly injured in 1941, an officer wrote to his parents telling them not to worry if they saw his name appear in a casualty list as he was fit for duty the next day.

Edward was reported as 'a prisoner of war in Italian hands' in the Suffolk and Essex Free Press on 8th October 1942 and the family received a pre-printed card stating that he 'had not been wounded' and was 'being treated well'. He had been captured in Libya sometime between late 1941 and early 1942. After 18 months Edward was moved from a prison camp in Italy to Germany and then Czechoslovakia. As the Russians were moving across Europe towards Berlin their tanks shelled the prison camp killing 4 prisoners of war and injuring others.

His parents received a letter from a fellow prisoner Arthur Probin dated 26th June 1945. 'I was a P.O.W. in Italy and Germany and during the whole time was in the same camp as "Tubby' as he was known by the boys. On May 8th at approx. 2.30 he was killed by a shell from a Russian tank as we were being liberated.' 'He was killed almost instantly everything possible was done to save him but it was too late'. ' I was slightly wounded, but was able to attend his funeral which was held on the next morning in the camp grounds'.

Edward died aged 29 on 8th May 1945, the same day that peace was declared in Europe - V.E. Day. He lies buried in Prague War Cemetery, Czech Republic.

His first cousin Russell Wordley was killed in action during the First World War and is remembered on the Great Cornard Memorial.